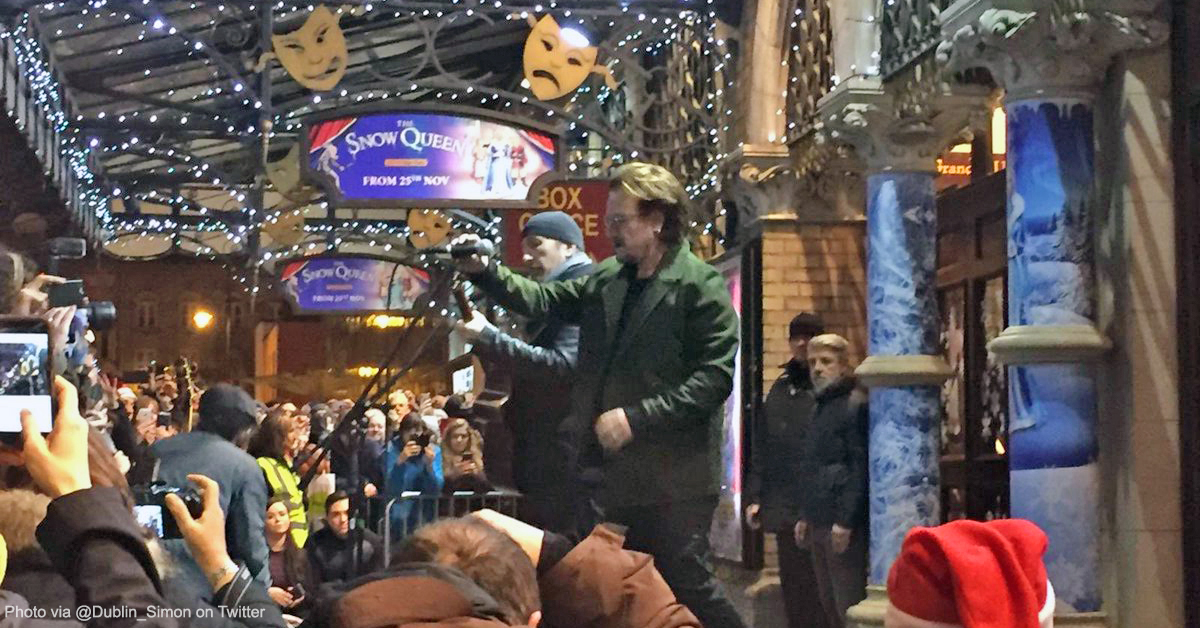 Bono was back on the streets of Dublin Monday night busking to help raise money to aid the city's homeless. It was his first appearance at the annual Christmas Eve tradition since 2015, and he brought a special guest this year: The Edge, making his first appearance.
They did a short, acoustic set that began with U2's "Love Is Bigger Than Anything In Its Way" and followed that up with the traditional Christmas carol, "O Holy Night." After that, organizer Glen Hansard, singer Imelda May and other artists joined them for a singalong performance of "Christmas (Baby Please Come Home)."
Bono's involvement with the busking session dates back to 2009, and he appeared for five straight years before missing the event in 2014 after a serious bike accident. He returned in 2015 but missed the two years since then. The event seems to get bigger each year. Tonight's busking happened outside The Gaiety Theatre on S. King Street, just off of Grafton Street.
The artists aim to raise awareness and money for the homeless in Dublin. You can donate to the cause via organizations like the Dublin Simon Community, who were kind enough to let us use their photo above. And thanks to Ronan Donnelly for sharing these videos on YouTube.
(c) @U2, 2018.