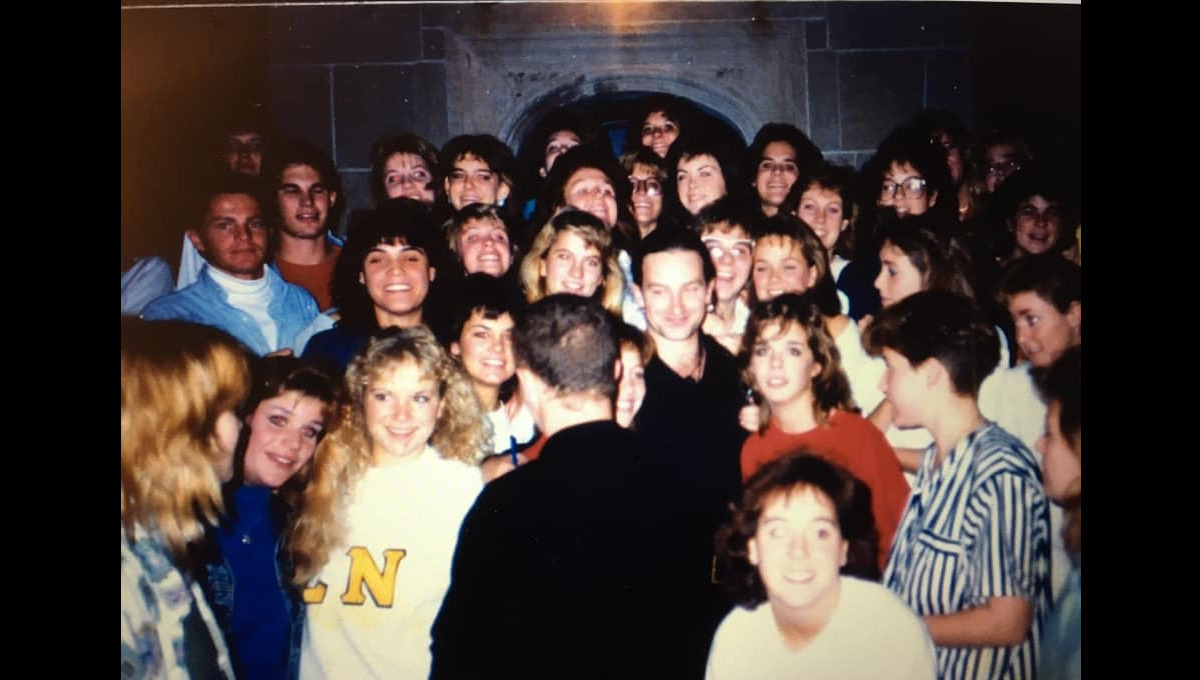 Photo Credit: Tammy Rinaldi Miller
It's not every day that a 'new' performance by U2 is added to U2Tours. Considering the band's long history, it's inevitable that there will be shows or performances that we don't know about or end up lost. That's why we are excited to share the rediscovery of an intimate, spontaneous performance from a 1987 sorority party.
On October 22, 1987, U2 played at Assembly Hall in Champaign, Illinois. According to The Daily Northwestern, a student newspaper at Northwestern University in Evanston, Illinois, all four members of U2 visited a sorority at the Delta Delta Delta House on campus following their performance. The article shared below (via Genealogy Bank) details some confusion and disbelief among the students as U2 eventually joined a group of students inside the house following the concert. While there, they found a piano and played some bits of "Hey Jude," including a few lines of parody ad-libbed by Bono. This was followed by a performance of Englebert Humperdinck's "After The Lovin'." Bono signed the sheet music and gave it to sorority member Tammy Rinaldi Miller afterward.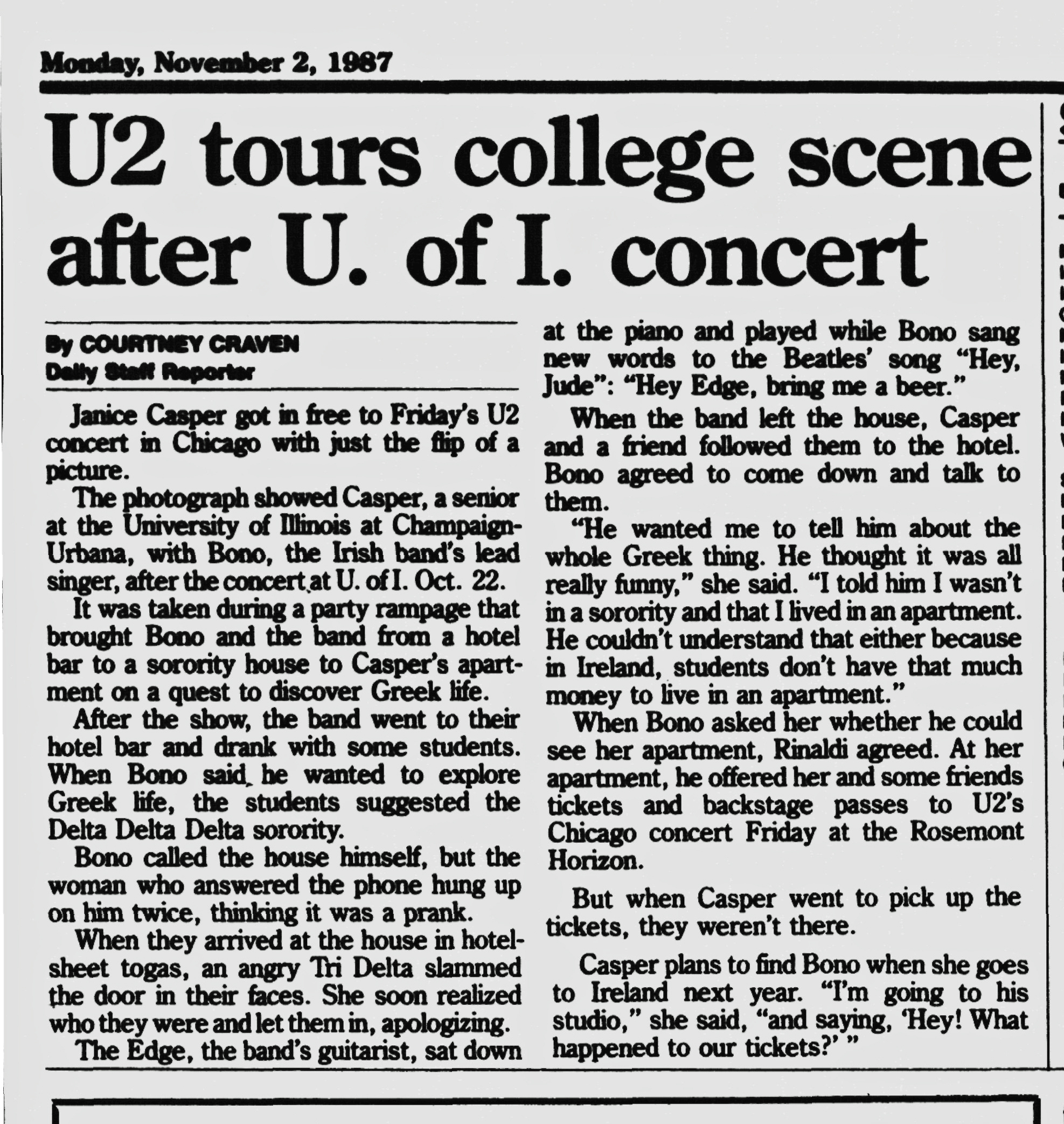 We reached out to some alumni of The University of Illinois, specifically the students living in the Delta Delta Delta house, and they were able to confirm this performance for us. Peggy Young Rische, a student at the school from 1980-1984, reached out to some other alumni through Facebook, and shared some great stories and photos with us. When we have permission to share them with you, we will. Perhaps the best account details a sorority member named Jennifer talking to Bono on the phone:
"Oh yes, Jennifer was working 'phone duty' when I came home from seeing U2 with Tracey. Jen answered the phone and Bono politely asked if the band could come and visit. We said, 'Sure!', but they had to bring 2 large pizzas with extra cheese with them. Some time went by and we figured it was a prank, so we all headed to bed. I was last to shut the lights when the bell rang. Guess who? The rest is Delta history!"
Rische also shared how it all came to happen, saying "evidently, some Delts (a fraternity) met the band after the concert in a hotel bar. One of the Delts had a crush on a Tri Delta. When the band inquired about seeing a sorority, the Delt suggested Tri Delta."
Shared below are photos from the party at the Delta Delta Delta House. They feature images of the band posing with students and Bono doing some card tricks. There are also photos of the items the band signed for them in exchange for some Tri Delta sweatshirts. We'd like to thank Tammy Rinaldi Miller, Jacqueline Bush, and Christina Bournias Maytum for passing these photos along and allowing us to share them with you!
(Photos courtesy of Tammy Rinaldi Miller, Jacqueline Bush & Christina Bournias Maytum)
If you were there and have more information, please feel free to share it with us! Our email is news@u2tours.com. We're constantly researching old shows, newspaper articles, and other leads to fill in blanks in our database. Don't forget to check out a few of our other notable discoveries, like Bono, Adam, and Larry joining The Slutboys in 1982, or our confirmation of their August 11, 1979 show at Dandelion Market.