U2 Concerts with Opening Act: Fun Lovin' Criminals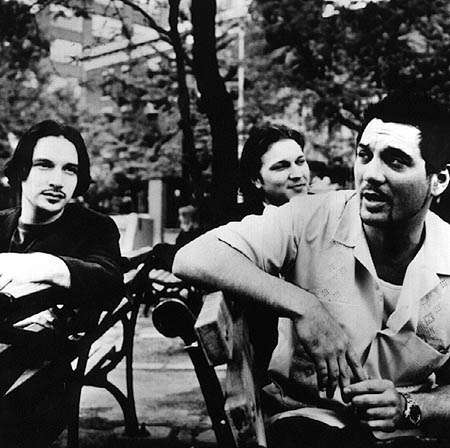 Fun Lovin' Criminals has opened at 18 U2 concerts.
Huey Morgan, Brian Leiser, Frank Benbeni
NYC based band Fun Lovin' Criminals touch upon styles like hip-hop, jazz, and blues in their music. They also use dark yet satirical themes in their lyrics in relation to life in NYC, like drugs, poverty, and violence. Their biggest single, "Scooby Snacks," features snippets from Quentin Tarentino films.
| | |
| --- | --- |
| Date | Location |
| Jul 21, 2001 | Turin at Stadio Delle Alpi |
| Jul 02, 1997 | Foxborough at Foxboro Stadium |
| Jul 01, 1997 | Foxborough at Foxboro Stadium |
| Jun 29, 1997 | Chicago at Soldier Field |
| Jun 28, 1997 | Chicago at Soldier Field |
| Jun 27, 1997 | Chicago at Soldier Field |
| Jun 25, 1997 | Madison at Camp Randall Stadium |
| Jun 15, 1997 | Edmonton at Commonwealth Stadium |
| Jun 14, 1997 | Edmonton at Commonwealth Stadium |
| Jun 12, 1997 | Winnipeg at Winnipeg Stadium |
| Jun 08, 1997 | Philadelphia at Franklin Field |
| Jun 03, 1997 | East Rutherford at Giants Stadium |
| Jun 01, 1997 | East Rutherford at Giants Stadium |
| May 31, 1997 | East Rutherford at Giants Stadium |
| May 26, 1997 | Washington, DC at Robert F. Kennedy Memorial Stadium |
| May 24, 1997 | Columbus at Ohio Stadium |
| May 22, 1997 | Pittsburgh at Three Rivers Stadium |
| May 19, 1997 | Kansas City, MO at Arrowhead Stadium |