U2 Concerts with Opening Act: Interpol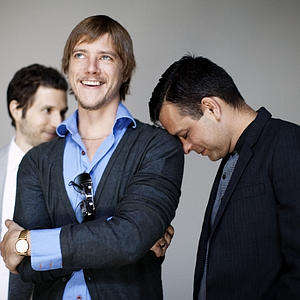 Interpol has opened at 16 U2 concerts.
Paul Banks (vocals/guitar), Daniel Kessler (guitar), Sam Fogarino (drums)
Indie rockers Interpol are from NYC and have performed alongside other bands like The Strokes and The National while making a name for themselves. Their 2002 debut album, "Turn On The Bright Lights," was a critical smash as were follow-ups "Antics" and "Our Love To Admire." In 2007, they headlined Lollapalooza in Chicago. They opened for U2 during the 360 Tour and closed out the remainder of the tour in the summer of 2011. Interpol has received comparisons to Joy Division and The Smiths. They are currently rehearsing new material.
| | |
| --- | --- |
| Date | Location |
| Jul 26, 2011 | Pittsburgh at Heinz Field |
| Jul 23, 2011 | Minneapolis at TCF Bank Stadium |
| Jul 20, 2011 | East Rutherford at New Meadowlands Stadium |
| Jul 17, 2011 | St. Louis at Busch Stadium |
| Jul 11, 2011 | Toronto at Rogers Centre |
| Jul 09, 2011 | Montreal at Hippodrome |
| Jul 08, 2011 | Montreal at Hippodrome |
| Oct 08, 2010 | Rome at Stadio Olimpico |
| Oct 03, 2010 | Coimbra at City of Coimbra Stadium |
| Oct 02, 2010 | Coimbra at City of Coimbra Stadium |
| Sep 30, 2010 | Seville at Olympic Stadium |
| Sep 26, 2010 | San Sebastian at Anoeta Stadium |
| Sep 23, 2010 | Brussels at King Baudouin Stadium |
| Sep 22, 2010 | Brussels at King Baudouin Stadium |
| Sep 18, 2010 | Saint-Denis at Stade de France |
| Jun 21, 2005 | Glasgow at Hampden Park |