U2 Concerts with Opening Act: Romeo Void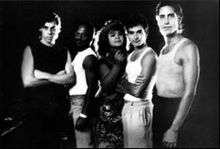 Romeo Void has opened at 6 U2 concerts.
Benjamin Bossi (saxophone), Debora Iyall (vocals), Peter Woods (guitar), Frank Zincavage (bass), Jay Derrah (drums)
Hailing from San Francisco, Romeo Void formed in 1979. Their most known songs are "Never Say Never" and "A Girl In Trouble (Is a Temporary Thing)." The band broke up in 1985 but reunited over the years on various occasions.