U2 Concerts with Opening Act: Suburban Lawns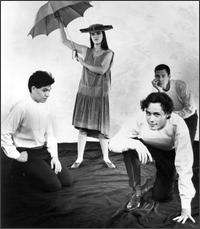 Suburban Lawns has opened at 1 U2 concerts.
Su Tissue (vocals/keyboards), Frankie Ennui (guitar), John Gleur (guitar), Vex Billingsgate (bass), Chuck Roast (drums)
Suburban Lawns formed in Long Beach, California in 1978. Their self-titled and only album was released in 1981 and contained the single "Janitor." The band broke up in 1983.