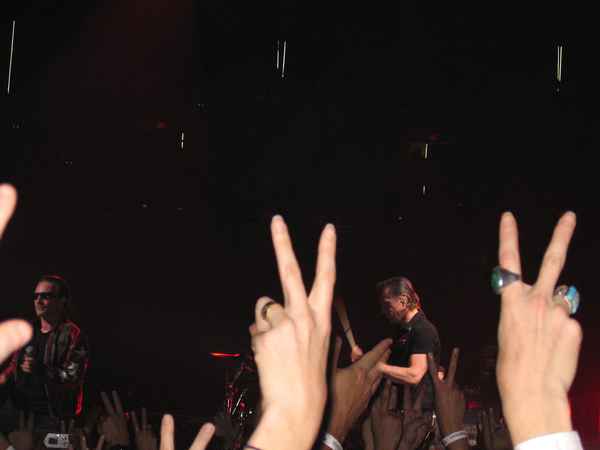 Wow show 6 of the tour and 13th overall!!

Had GA tickets for the second night in a row. Becuase of my guests we got there late. 8:10 and missed out on a chance to get into the Bomb Shelter. No big deal though, after having front row the night before I was perfectly content to hang outside the BS and enjoy my 4th different vantage point of the tour.

The show was great with the highlight being the first tour apperance of "Bad"!! What a song and it was great to hear it live again! I know at least one fan in the GA that night that was hoping beyond all hope the boys would play Bad tonight and they got it to their extreme surprise and pleasure!!

The show would rate as the second best of the tour with the only one being better is the night before's show. The boys didn't work the eclipse quite as much as Thursday night but they were at the top of their game regardless. Smiles by all and just having a blast.

Adam again threatened to steal the show as he was the most prominent member of the band on the Eclipse making many journeys out there and constantly making eye contact with individuals in the crowd!! Props to you Adam!

The Arizona crowd was again great. Loud and appreciative!! Being on the outer part of the Eclipse during a few stops has been a recipe for some pushing and shoving but in Arizona the crowd was very respectful and you didn't get crushed at all! I think the boys could sense this "maybe even spotters observed it and let them know" and that is why they were on the Eclipse both nights much more than past shows!

Wow 6 of 10 shows and off to Denver for my last show of the 1st leg of the tour. One more shot at a return to the Bomb Shelter. See you in Denver!!

I give Friday's show a solid 9 out of 10.

PS Bono, leave the magic to Penn and Teller!! LOLOLOL Actually a pretty funny moment!! Bono doing magic tricks with a scarf from the crowd and making his fingers dissapear for a solid 30 seconds to Larry's horrow!! LOLOLOLOL

PSS Check out some of my pictures in my review from the night before. Some great up close shots of the band from the front row!

Picture is from LAPOE with Larry and Bono at the edge of the Eclipse for the drumming routine!