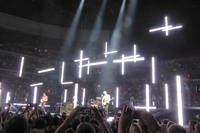 by macmango
On March 1, 1992, I was a passenger in a VW that zipped through Overtown towards a familiar destination. I'd tickets torn for dozens of concerts, basketball games and other events at the building, but anticipation for the show that night was not ordinary. Four of us jumped out of the car as it stopped at a curb near the box office. The scene outside was electric, and it reminded me of a big game atmosphere at the Orange Bowl.
This was Miami at the infant stages of the SoBe explosion, before Miami grew to be the third largest gateway in the U.S. U2 concert audiences in Miami have been diverse since The Joshua Tree Tour, but that night was hardly so by today's standards. Those who weren't locals had most likely traveled from Tampa or St. Augustine, not Toronto or Sao Paulo.
Tickets for the ZooTV show had been placed on sale just a short few weeks beforehand. Imagine the awkward (and extremely lengthy) silence that occurred, when I informed my special girl that we needed to line up for U2 tickets at Eckerd Drug Store on Friday night, February 14th. When I finally arrived at the TM outlet at 10:30 pm on Valentine's Day, I envied friends that had secured prime spots, and knew the long line had doomed my chances of getting a ticket. Even then, U2 fans loved strict, organized lines!
The $27 tickets were going for $50 the night of the show, but I came across a fan outisde the Arena who sold me his extra for face. After scoring my mezzanine ticket for ZooTV, I caught up with friends inside who were seated in the back, lower level. I affirm there was no sitting down that night! We stood through the entire show, mesmerized by Bono's persona and The Edge's chainsaw. It seemed that everyone 'got it', and the frenzied, sold out crowd absolutely loved the new U2. I can only describe it as a Bono bombardment, because he literally dominated the show with his Fly shades, glossy black leather jacket and remote control prop.
That night inside a compact, pink bandbox, a love affair between U2 and Miami kindled from a spark to a fire. At the 2nd show of the ZooTV Tour - a grand opening of sorts - the tour achieved it's lift-off. U2 have been coming back here for more, and have given us much more, ever since.


Return to previous page | Post a Review of this show!