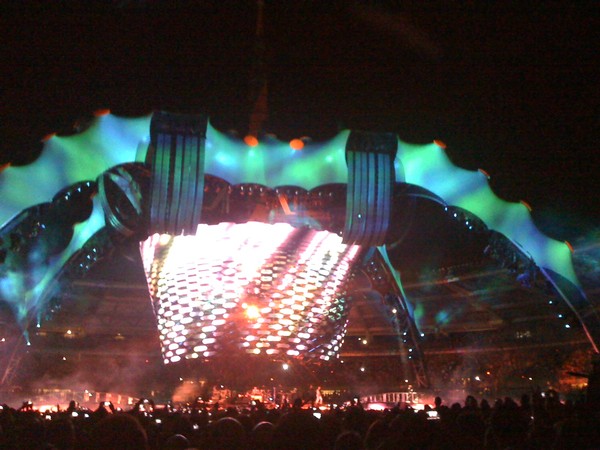 Ok - got back late last night and the show has obviously been on my mind. I'm really interested to hear what everyone else has picked up/thinks but i wanted to share some general thoughts!

Firstly this is one of the most energetic U2 shows I've seen for a while. Bono was literally on fire! He looked like the Fly, he moved about like Redrocks and his voice was simply fantastic! For me this was Bono's show - he controlled it, he revelled in it he looked so glad to be back!

Second - yes there were the odd few errors but overall boy were they tight.

Third - my first U2 gig out with the UK and I have to say hats off to the Italian fans - fantastic atmosphere which I think the band fed off.

New songs - think Bono wasn't sure about the reaction - North Star has a great melody and Glastonbury was got the place jumping (not bad for a never heard before song) Must admit Stingray passed my by as my eyes were glued to the video screens watching Bono strut and play his way around the stage.

Miss Sarajevo - a spine tingling song but you know seeing it played in Italy (for me) just added to that. Boy did the Italian's react well to the extended Italian translation

Crazy - the live remix for me gets better and better (this was the one song I didn't like on No Line)

Hold Me Thrill Me Kiss me Kill Me - I see a lot of debate on the forum but you know its sounded GOOD! Yes Ultraviolet will be missed but hey I want them to mix it up more! Steering wheel sooo makes sense with this song!

Overall set list - would like to see more variety but watching a lot of fans around me for whom this was probably their first show the reaction was amazing - so I do get the arguments U2 put about each show is (probably) for the majority of people there their first

Beautiful Day as an opener - worked for me - place was bouncing!

Streets - I've fallen in love again - this song (I think) has gained new momentum and could possibly lose its 'old warhorse' tag that i used frequently (ducks as people chucks things at me!!)

U2.com input - the mp3 voice uploads were hard to hear and anyone any idea of what happened to all the hand pictures they were requesting?

With or Without You - the band played this song really well - I still don't get the hanging off the steering wheel for this song? Jury still out for me!!

Moment of Surrender - before Friday I was one of the campaigners for ditching it as the show closer (and playing elsewhere) but it sounded incredible and instead of it bringing the gig to a quiet end (which is what i thought it did) it actually raised it up to another level (for me) I'm sure the debate will rage on but I loved it!!

Discotheque snippet - fantastic!

For me this was U2 back to their best! Roll on Paris!