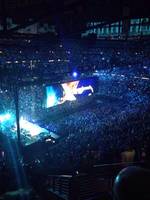 by cjnemec
1st night in Chicago. 1st time seeing the I-E tour.
This show exceeded even my lofty expectations (tonight was my 17th show). The prevailing thought was that this show needed to be seen to be appreciated. That was pretty dead on. The audio and video recordings (while really cool) don't even come close to showing off the joy, fun and power of this show.
We were in general admission tonight and got to the show at about 5:30 and ended up a few feet from the E stage which turned out to be an awesome spot.
The new songs were really awesome. They exceeded the album sound for sure.
The older songs were excellent and Pride sounded as urgent and important as it did 20 years ago... especially with the recent civil rights tragedy in the United States.
And Bono's voice was great and if he had throat issues or was sick it definitely didn't show.


Return to previous page | Post a Review of this show!