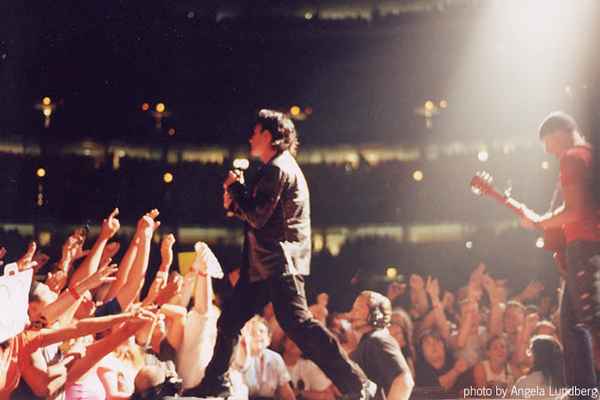 I can probably safely say that Wednesday night's show is one of the most exciting things I've been to in my life! It literally ROCKED! Excitement was in the air in the United Center and it was all I could do to control myself from going completely bananas. U2 basically disregarded the "normal" setlist altogether by playing about five Achtung Baby songs in a row after opening with Elevation and then mixing it up from there. Hearing this and noticing these changes, I remember I felt REALLY excited, and wondered what else was going to happen that night.

My cousin and I (who are both from Minneapolis) actually were only planning to go to Tuesday night's concert. But at the last minute, the more we thought about it, we decided we HAD to get to the last show. And I am SO GLAD that we did! It was definitely worth it waiting for the second day in a row for six or seven hours and dealing with intense sunburn pain (yes, we were the girls who resembled tomatoes) to get into the Heart. I heard songs I never thought I'd get to hear live, such as 11 O'Clock Tick Tock, and Out of Control (Tues)! And it was great hearing the "surprise" songs--Even Better Than The Real Thing, I Still Haven't Found What I'm Looking For (acoustic), Wake Up Dead Man, All I Want Is You, Angel of Harlem...

Bono was emotional, energized, passionate, and inspirational (well, duh, when ISN'T he?!). The crowd was wild--cheering, screaming, waving signs and hands and arms, jumping up and down--and Bono fed off of our energy. It was awesome. Magic. Wednesday night showed me what rock 'n roll is REALLY all about! I only wish there were some way I could experience that night again. :)



*I hope you like my photos from the show!