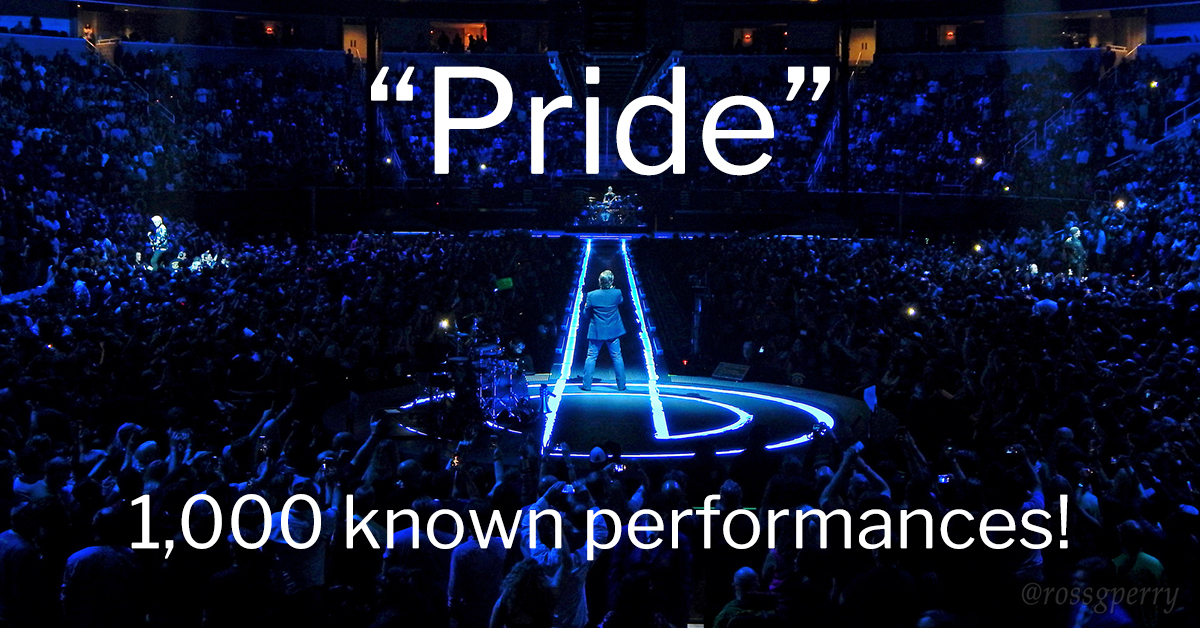 If all goes as expected, today's concert in Manchester will feature the 1,000th atu2-confirmed performance of "Pride (In The Name Of Love)."
The true count for how many times U2 have performed "Pride" is probably around 1,009, but we have been unable to verify the set lists from several concerts during which "Pride" was probably played. For example, our first confirmed performance of "Pride" was on Aug. 31, 1984, in Wellington, New Zealand, but we expect that its debut was likely two days earlier in Christchurch. Without recordings or timely accounts of the shows, it is impossible to say for sure. Newspapers local to those New Zealand gigs have not digitized their archives beyond 1945.
"Pride," a mainstay of the U2 concert experience, has been played at almost every official tour concert since its debut. It is rare that the band does not play the song, but it was omitted from the set for 26 shows of the Elevation tour (missing about 23 percent of the tour) and 47 shows of the 360 tour (missing about 42 percent of the tour). The last concert that "Pride" was not played was Sept. 1, 2018, in Berlin due to the show ending early when Bono lost his voice. Of course the most famous instance of the band not performing "Pride" was at the end of their Live Aid performance when Bono's "leap" extended "Bad" through the end of the band's time slot.
U2 have actually performed "Pride" twice during a performance two times. The first double-"Pride" was at a concert in Phoenix on March 1, 1985, during the Unforgettable Fire tour. The second time was during the ZooTV Outside Broadcast open rehearsal in Hershey, Pennsylvania.
Regardless of whether "Pride" has been performed 1,000 or 1,009 times, it is safe to say that it is one of the most frequently played original songs by a rock 'n' roll band. For the sake of comparison, "Jumping Jack Flash" has been performed 1,149 times by the Rolling Stones according to SetList.fm. Add the bands together and you can round that up to an even 1,150 to include the one time that we can confirm that U2 covered the Stones' classic back in 1977. The Rolling Stones, at least as far as SetList.fm can tell, have yet to cover "Pride."
While "Pride" will be the first song to reach 1000 confirmed performances in the atU2 database, we are confident that "I Will Follow" passed that mark a long time ago. Unfortunately, records of the earliest U2 shows are even harder to confirm than the New Zealand dates mentioned before, so "I Will Follow" sits at 935 confirmed performances as we go into the Manchester show. Following the conclusion of the Experience + Innocence Tour, we will take a deeper look into the confirmed song performance counts and discuss some significant milestones. Stay tuned!
(c) @U2, 2018.