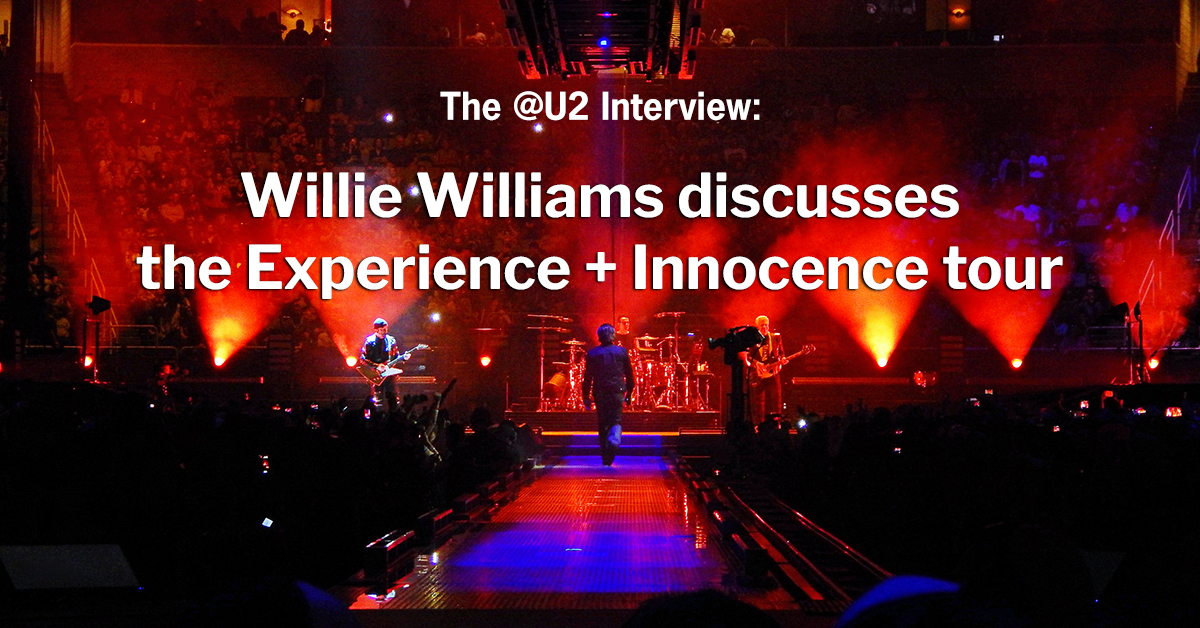 You may have noticed: For the first time since the U2 360 tour, we didn't run an interview with Willie Williams, U2's longtime show director, in the early days of a new U2 tour.
It wasn't for lack of trying. I sent him an initial batch of questions in late April, a week before the Experience + Innocence tour began. We spoke briefly in person in the moments before opening night in Tulsa. I sent another batch of questions in mid-May after I'd seen three of the early shows. As the first leg neared its end, we agreed to wait until after the second leg began ... but that's when things got crazy. Bono lost his voice in Berlin and -- as you'll read below -- that one night set in motion a series of twists and turns that played out for the rest of the tour and prevented us from following through on a Q&A. When the E+I tour came to an end in mid-November, I figured we'd just give it another try the next time U2 goes on tour (whenever that is).
Then out of the blue, an email arrived on Nov. 28 titled "And relax" from the man himself. Williams said he's been enjoying "civilian life" again and attached "an epistle" that he started writing a month earlier, Oct. 27, on a train from Dublin to Belfast. "For reasons that will be obvious," he wrote, "I ended up not being able to send it right away." He said he didn't want to spoil the surprise for any fans who were unaware of the changes U2 was working on, like rearranging a good chunk of the first half of the show and trying to fit "Dirty Day" into the set.
So the streak continues! It's later than normal this time, but we're proud to bring you our third consecutive tour Q&A with Willie Williams.
I should mention that Willie's "epistle" ran a full five pages in size 12 font, and it arrived in essentially two parts -- an essay that reads much like his old "tour diaries," followed by replies to many of the questions that I'd sent him during the tour. So we'll present it in two parts, too. First and below is the tour diary-esque essay. We'll follow up soon with part two -- the Q&A.
---
Saturday 27th October 2018
I write this on a train from Dublin to Belfast, heading up on the morning of the first show day. I don't normally like to travel independently on the day of a show but the crew weren't able to start load-in until 3:00 a.m., so there would have been little point in my coming up last night. I've been going in early on each show day for the past few weeks as, during this European leg, we have been rebuilding parts of the show as we go along.
It came about after the Berlin show cancellation. One of the great debates of the year has been whether to include any of the Innocence show in the Experience show. It's something we've debated from the beginning. In cities where Innocence hadn't played it would make a lot of sense to include what we called the "Innocence Suite" (as a kind of "previously on Innocence + Experience..." catch up). In cities where the tour had been in 2015, though, it might feel like nothing more than repetition, so it was a bit of a dilemma. Had the two tours been in consecutive years, per the original plan, then I'm sure we would simply have augmented the Innocence show and called it Experience, but three years later it became a little more complicated, not least because we would now be revisiting a lot more of the Innocence cities than we would have done with Plan A. In the end, as set list history will attest, we did include some of the Innocence Suite, experimenting with how much of it felt like it struck the right balance.
So, on to Europe, and remaking the show for the EU. As you've seen, we retooled the politics and overall trajectory of the show, which, generally, we feel has been the right tone for the times. However, when disaster struck in Berlin and we found ourselves in the situation of returning there to close the tour, some new ideas began to emerge.
We'd been debating where to film the show so the idea of filming the final show in one of U2's "home" cities became a bit of a no-brainer. Having made that decision, the next thought was that there would be little point in re-filming the Innocence Suite so, given our final destination, could we invent a "Berlin Suite" that would tell a different part of the Innocence + Experience story?
We played with the idea of building a section out of songs about cities -- which explains the single performance of "The Unforgettable Fire" [Ed. note: in Copenhagen on September 30] -- but ultimately, the idea of focusing on Berlin felt stronger. The thought of being able to include "Zoo Station" and "The Fly" got everybody excited, plus some deeper cuts like "Stay," "Wild Horses" and finally "Dirty Day," which is a song I've been wittering on about since around the 360 tour.
The hilarious -- and very U2 -- aspect of all this is that these decisions were made just a few days after finishing rehearsals. This meant that U2 was about to become the first band in history to attempt going on tour and doing production rehearsals simultaneously. Once a tour is rolling, there just isn't any time for anything. The very act of moving a show of this size and complexity can take up every waking moment, so it took a great deal of strategy and a lot of good will from the crew to make it happen. Bono isn't exaggerating when he gives his nightly thanks to the U2 crew. In the hands of less willing individuals, there's zero chance that we could have pulled this off.
On a typical day, I'll spend the morning with whichever band members are available to review what happened the night before, to talk about new ideas and developments and to show them whatever new video sequences have come in from my studio overnight. Jake Berry, champion production manager, has been arranging things so I get an hour or two with the stage each afternoon -- again, a feat much more easily said than done in the flow of a show day -- then the band comes in later for sound check. "Remember when sound checks used to be about sound?," mutters Joe O'Herlihy, as we spend a further hour or so going over staging and rehearsing the new sequences. Then we all go and have our tea before coming back to do the show. This has been going on every day for weeks; it's been a tad intense but we've got a lot done.
At the time of writing, four of the Berlin Suite songs are in the show and we hope to add the fifth and final one -- "Dirty Day" -- tomorrow, Belfast night 2. [Ed. note: That didn't happen; it was added about 10 days later in Dublin.] This afternoon, I'll have the stage for an hour to programme the latest version of the visual sequence, which includes drawings of the band and their fathers by Lisa Wrake. It also includes the house and the light bulb, which will help make sense of the ending of the show for anyone who didn't see Innocence.
I've also remade the video piece for "Wild Horses," which hopefully will go in tonight or tomorrow. The waves are fine but a little pedestrian, so I had the idea of making a texture which is recognisable as water but is also TV "shash" at the same time, to tie in with the Berlin/Zoo aesthetic.
It was really fun to recreate the iconography of the actual Zoo Station for the song of the same name. I can't believe we've included a sign that says "U2" but that really is the name of the subway line that runs through Zoo Station in Berlin and that sign actually exists -- it's a photograph.
Remaking a show incrementally whilst on tour has been complete madness and we're all wrecked as a result -- not to mention having to figure out folding the show in half to get it in the Dublin "arena" next week, oh, and arranging a one-night film shoot -- but there has been something interesting about making the creative process so public. Regular show-goers, or anyone with access to YouTube, can follow our progress, see the things we thought worked and the things that were rejected; they can note the set list tweaks, the things that we tried and how they turned out. I hope it's been interesting for the fan base because it's been interesting for us. Not that it's something I'd choose to repeat in a hurry.
Coming soon: Part 2, in which we talk about MacPhisto's return, the changes at the start of the show, whose brain scans we saw on the big video screen every night and more.
(c) @U2, 2018.