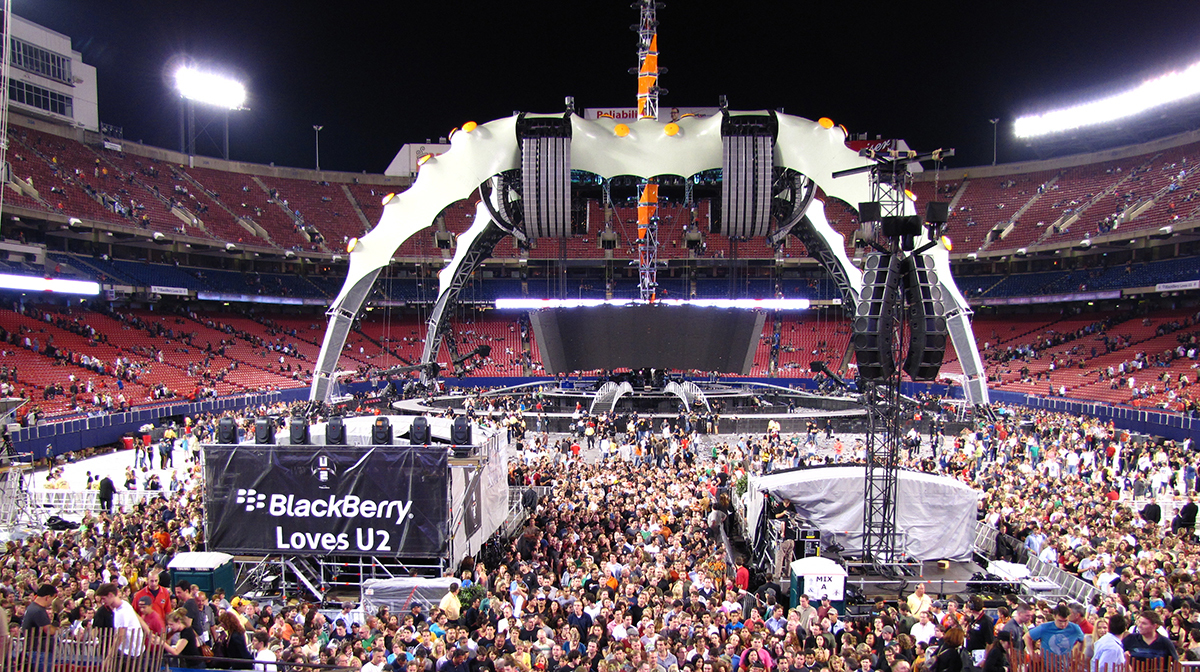 U2 have never done anything on a small scale. Even as they cut their teeth in tiny clubs in and around Dublin in the late '70s, they brought with them a larger-than-life stage presence and an ambition that took years to grow into. By the end of the '90s, U2 boasted three of the highest-grossing tours of all time in The Joshua Tree, ZooTV and Popmart tours. For most bands, this would have been the capstone of a highly successful touring career. But for U2, those tours were just the beginning.
Only a select group of artists have embarked on their most successful tour so late in their career. U2, in perfect style, did exactly that from 2009 to 2011 as they pulled off the highest-grossing tour in music history. When it ended, U2 had racked up $736,421,584 in gross revenue and sold 7.2 million tickets over 110 concert dates. They had performed 62 different songs, for a total of 2,635 song performances.
Today, June 30, 2019, is the 10th anniversary of the first date of the tour, and in its honor here are 10 little things about the biggest tour in the world.
1. By The Numbers
It takes a lot of people to execute something of this magnitude. The Claw clocked in at 167 feet high, weighed 200 tons, and cost $750,000 per day to operate. A crew of about 300 people used 180 trucks to ship, assemble, and disassemble it at each city along the way. The articulated screen had over 1 million separate pieces to make it work. Even without the record-setting revenues, the 360 Tour would have been a monster by any standard.
2. W.H. Auden Introduces "Ultraviolet (Light My Way)"
One of the more visually interesting elements of show was the laser jacket Bono wore during the encore performances of "Ultraviolet (Light My Way)." Prior to this song, the large video screens featured an animation accompanied by a mechanical recitation of "Funeral Blues" by W.H. Auden. Originally written as a satirical mourning of a political leader in 1936, the poem took on new meaning as it became a lament for lost love, and a perfect segue into "Ultraviolet." Unfortunately, this was only featured at a handful of shows in 2009.
3. Bigger Than The Biggest Stadia
U2's innovative stage design for the 360 Tour, The Claw, was designed to make a huge stadium feel more like an intimate experience. It wasn't unusual for the top of The Claw to reach higher than the stadium itself. This became an issue in two stadiums, one in Dallas and one in Montreal. According to Spectrum News and Corus Entertainment, in each city the band paid an additional $2 million to $3 million to raise the Jumbotron TV screens into the rafters, or alter the venue itself, to fit the stage. Other roofed stadiums, such as the Rogers Centre in Toronto, opened the roof to accommodate the show.
4. Bigger Than The Pope
On September 24, 2009, U2 played the second of two shows at historic Giants Stadium in East Rutherford, New Jersey, in front of huge, packed crowds. So many fans flocked to the shows that the second night broke the Giants Stadium record for the highest single-event attendance. What did they dethrone? Pope John Paul II's Mass during his October 1995 tour of the United States.
5. Breaking Their Own Records
The Pope's Giants Stadium record wasn't the only attendance record U2 set on the 360 Tour. Prior to 2009, the previous U.S. single-concert attendance record was set by U2 on their Joshua Tree Tour show at JFK Memorial Stadium in Philadelphia in 1987. That show was attended by 87,145 fans. Their Rose Bowl show, which was also broadcast on YouTube and later released on home video, broke their own record with an attendance of 97,014.
6. Space: The Final Frontier
Even before U2 took the stage, the "space" theme was abundantly clear. Even from outside the stadium, The Claw appeared as if it were a spaceship just landed from some other planet. Their walk-up music, David Bowie's classic "Space Oddity," set the tone for the night. While the biggest space-themed highlight was the nightly "link-ups" with astronauts on the International Space Station (they were pre-recorded), space imagery was present in the pre-encore visuals too. If you listen to their performance of "Vertigo" on From The Ground Up: Edge's Picks From 360, you'll hear Bono ask the crowd if they're ready "to get the space station off the ground."
7. To The Moon
When it was all said and done, the 360 Tour traveled approximately 55,500 miles from show to show, enough distance to travel the globe 6.5 times. If U2's tour trucks were a spaceship, they would have made it one-quarter of the way to the moon. (Contributed by Mason Merritt)
8. Breakfast Fruit And Cutlery
The final version of The Claw looked every inch like a landed space station, but its beginnings were far more terrestrial. In fact, its origins lie on Willie Williams' breakfast table, where he created a rough mock-up of the 360 concept using a grapefruit and a variety of cutlery.
9. Rarities And New Songs
U2 are not known for playing untested or rare songs on a regular basis. So it was a welcome surprise to see them road-test so many new songs in Europe in 2011. Songs such as "Boy Falls From The Sky," "North Star," "Every Breaking Wave," "Glastonbury," "Mercy" and "Return Of The Stingray Guitar" all made appearances on stage. Many of them even reappeared in different forms a few years later on Songs Of Innocence.
10. Google Maps Takeover
Not only did The Claw take over every stadium it was installed in, but it also featured heavily in Google Maps in the weeks before and after each concert. Users were able to zoom into the stadium of their choice and see an overlaid image of what The Claw would look like when it finally landed in their city. While the feature is gone now, you can get a glimpse of what it looked like here.
(c) Betteridge/@U2, 2019