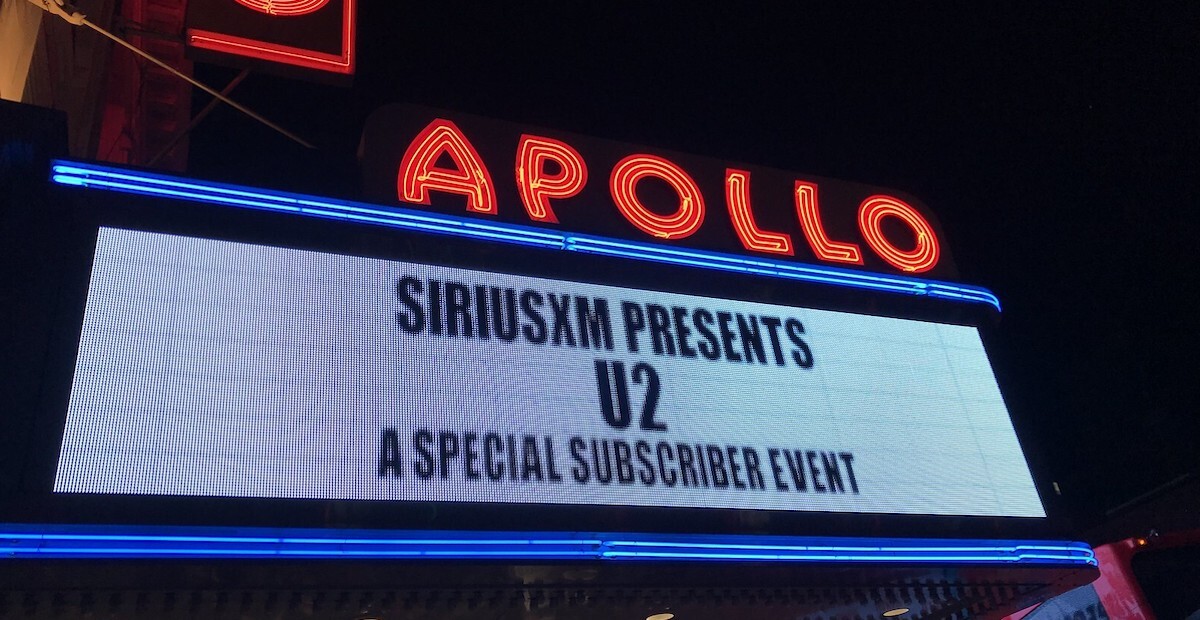 Photo credit: Karen Lindell for atu2.com
Dating back to Under a Blood Red Sky and all the way through to the 1987 Madison Square Garden show featured on the 30th anniversary release of The Joshua Tree, all official U2 live releases have been edited in some form. Some a lot, some just a little. Continuing the tradition, comes the U2.com fan club release, U2 Live At The Apollo. Which has started arriving in mailboxes this week.
We took a listen and have found at least seven (one major and six minor) edits from the original performance:
The Electric Co. - Both "Send In The Clowns" and "I Can See For Miles" snippets have been removed.
Desire - Bono saying "orchestra" has been removed before correcting himself and saying "Arkestra."
When Love Comes To Town - Bono saying "Larry, whenever your ready" has been removed before the song starts.
Stuck In A Moment You Can't Get Out Of - Bono's speech before the song starts has been heavily edited including the removal of the mention of Anthony Bourdain. After the song, Bono's thank you's to the Apollo, Interscope, SiriusXM and the U2 crew have been removed.
Who's Gonna Ride Your Wild Horses - Bono's requesting to "Turn these lights off" is removed from the beginning of song.
Every Breaking Wave - Bono's lyric hiccup and needing to restart the song is missing.
Love Is Bigger Than Anything In It's way - "This is now going out on SiriusXM," before the song starts, is removed.
Check out our Apollo show page for the complete setlist and show details.