U2 Concerts with Opening Act: David Johansen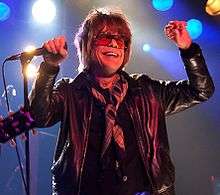 David Johansen has opened at 3 U2 concerts.
New Yorker David Johansen gained fame in the 1970s as singer for the New York Dolls. He also performed under the pseudonym Buster Poindexter, using musical styles like jazz and calypso. He has a weekly show on Sirius Satellite Radio.