U2 Concerts with Opening Act: Galliano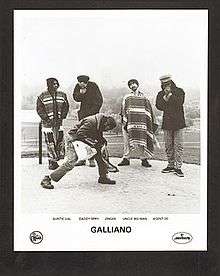 Galliano has opened at 2 U2 concerts.
Rob Gallagher (vocals), Constantine Weir (vocals), Michael Snaith (The Vibe Controller), Crispin Robinson (percussion)
Formed in 1988 in London, the band Galliano was an "acid jazz" band. The band reached success in 1994 with the album "The Plot Thickens," which saw a chart position of No. 7in the UK. The band broke up in 1997.