U2 Concerts with Opening Act: Patti Smith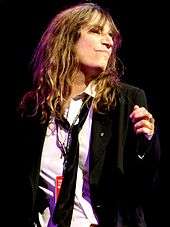 Patti Smith has opened at 2 U2 concerts.
Although she was born in Chicago, Patti Smith remains a major part of the New York punk music scene. Her song "Because The Night" was co-written with Bruce Springsteen and reached number 13 on the Billboard Hot 100 in 1978. Her band, The Patti Smith Group, released their first album in 1975 called "Horses" and included punk-rock tones as well as spoken poetry. The album cover, taken by photographer Robert Mapplethorpe, is considered one of the most iconic rock music images. She was inducted into the Rock and Roll Hall of Fame in 2007. She recorded "Until The End of the World" for the U2 covers album "AHK-toong BAY-bi Covered."