U2 Concerts in Madison Square Garden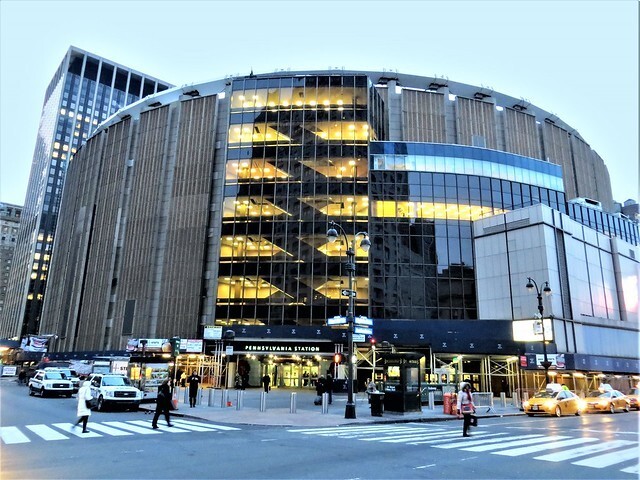 U2 has performed 30 times in Madison Square Garden. Those performances included unique songs and an overall total of 639 songs.
Madison Square Garden is located in New York, New York
"The World's Most Famous Arena" replaced the above-ground portion of Pennsylvania Station and opened in 1968. It is the fourth New York City venue to be called Madison Square Garden. The Garden is home to the New York Rangers and New York Knicks and has hosted the biggest events in professional boxing and wrestling including the first Ali-Frazier bout and Wrestlemanias I, X, and XX. Notable music events include George Harrison' Concert for Bangledesh in 1971, John Lennon's onstage performance (with Elton John) in 1974, and Bob Dylan's 30th Anniversary Concert in 1992.

U2 have performed at the Garden on every tour of indoor U.S. arenas since 1985. On October 27th, 2001, they closed a three night stand by inviting twenty first-responders onstage during "Walk On" and left the microphone on for the first responders to give tributes to friends and families affected by the 9/11 terrorist attacks. In 2009, U2 performed at the Rock and Roll Hall of Fame 25th Anniversary concert and acted as the backing band for Bruce Springsteen & Patti Smith, the Black Eyed Peas, Mick Jagger & Fergie.
The Garden underwent extensive renovations in 1998-1991 and 2011-2013.
Madison Square Garden is located at 46 Pennsylvania Plaza, New York, New York.
Photo Source: John Wisniewski
| | |
| --- | --- |
| Date | Venue Name |
| Apr 01, 1985 | Madison Square Garden |
| Sep 28, 1987 | Madison Square Garden |
| Sep 29, 1987 | Madison Square Garden |
| Mar 20, 1992 | Madison Square Garden |
| Jun 17, 2001 | Madison Square Garden |
| Jun 19, 2001 | Madison Square Garden |
| Oct 24, 2001 | Madison Square Garden |
| Oct 25, 2001 | Madison Square Garden |
| Oct 27, 2001 | Madison Square Garden |
| May 21, 2005 | Madison Square Garden |
| Oct 07, 2005 | Madison Square Garden |
| Oct 08, 2005 | Madison Square Garden |
| Oct 10, 2005 | Madison Square Garden |
| Oct 11, 2005 | Madison Square Garden |
| Oct 14, 2005 | Madison Square Garden |
| Nov 21, 2005 | Madison Square Garden |
| Nov 22, 2005 | Madison Square Garden |
| Oct 30, 2009 | Madison Square Garden |
| Jul 18, 2015 | Madison Square Garden |
| Jul 19, 2015 | Madison Square Garden |
| Jul 22, 2015 | Madison Square Garden |
| Jul 23, 2015 | Madison Square Garden |
| Jul 26, 2015 | Madison Square Garden |
| Jul 27, 2015 | Madison Square Garden |
| Jul 30, 2015 | Madison Square Garden |
| Jul 31, 2015 | Madison Square Garden |
| Jan 28, 2018 | Madison Square Garden |
| Jun 25, 2018 | Madison Square Garden |
| Jun 26, 2018 | Madison Square Garden |
| Jul 01, 2018 | Madison Square Garden |