U2 Concerts in Beacon Theatre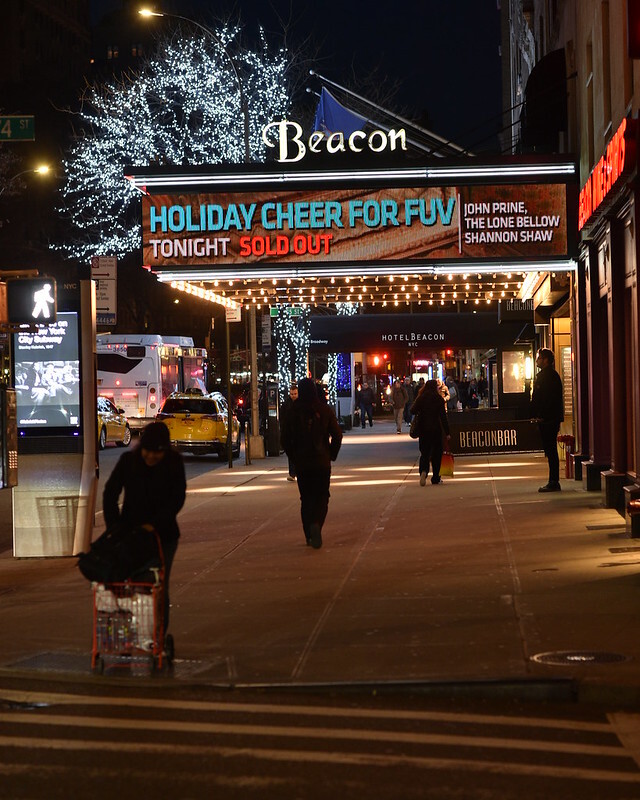 U2 has performed 13 times in Beacon Theatre. Those performances included unique songs and an overall total of 208 songs.
Beacon Theatre is located in New York, New York
The Beacon Theatre is a legendary music venue on Manhattan's Upper West Side. Opening in 1929 as a movie palace, the Beacon was renovated in the mid-70's to fill the theater-sized concert venue need that was created when the Fillmore East closed in the early 70's.
The Beacon has been a beacon for performers looking to stage residencies in the New York area with several artists playing long runs of dates or performning annually at the venue. The Allman Brothers called the Beacon home for annual residencies from the late 90's through the 2010's. The Allman's performed at the Beacon more than 200 times during their career including the band's last show in 2014. Other artists that have performed multiple shows at the Beacon include Bob Dylan, Steely Dan, and Mariah Carey.
The Beacon Theatre is located at 2124 Broadway in New York City.
Photo Credit: Neil Swanson
| | |
| --- | --- |
| Date | Venue Name |
| Nov 02, 2022 | Beacon Theatre |
| Apr 16, 2023 | Beacon Theatre |
| Apr 17, 2023 | Beacon Theatre |
| Apr 21, 2023 | Beacon Theatre |
| Apr 22, 2023 | Beacon Theatre |
| Apr 26, 2023 | Beacon Theatre |
| Apr 28, 2023 | Beacon Theatre |
| Apr 29, 2023 | Beacon Theatre |
| May 03, 2023 | Beacon Theatre |
| May 04, 2023 | Beacon Theatre |
| May 07, 2023 | Beacon Theatre |
| May 08, 2023 | Beacon Theatre |
| May 09, 2023 | Beacon Theatre |