U2 Concerts in Sphere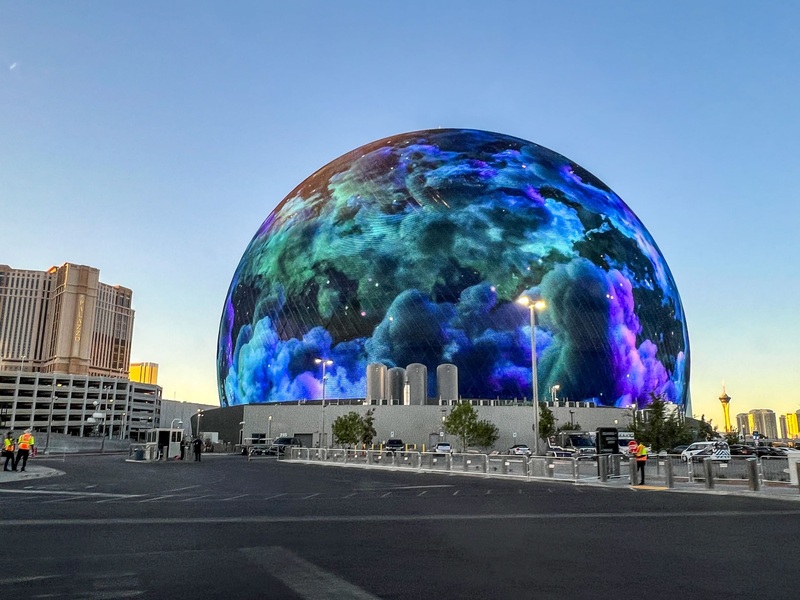 U2 has performed 36 times in Sphere. Those performances included unique songs and an overall total of 431 songs.
Sphere is located in Las Vegas, Nevada
Sphere is a first-of-its-kind concert and performance theater in Las Vegas, Nevada. The venue can host approximately 20,000 spectators for multimedia productions featuring video screens and speakers systems which immerse the audience. Sphere's exterior is wrapped in programmable lighting which can display images and video.
Photo Credit: Brian Betteridge

| | |
| --- | --- |
| Date | Venue Name |
| Sep 29, 2023 | Sphere |
| Sep 30, 2023 | Sphere |
| Oct 05, 2023 | Sphere |
| Oct 07, 2023 | Sphere |
| Oct 08, 2023 | Sphere |
| Oct 11, 2023 | Sphere |
| Oct 13, 2023 | Sphere |
| Oct 14, 2023 | Sphere |
| Oct 18, 2023 | Sphere |
| Oct 20, 2023 | Sphere |
| Oct 21, 2023 | Sphere |
| Oct 25, 2023 | Sphere |
| Oct 27, 2023 | Sphere |
| Oct 28, 2023 | Sphere |
| Nov 01, 2023 | Sphere |
| Nov 03, 2023 | Sphere |
| Nov 04, 2023 | Sphere |
| Dec 01, 2023 | Sphere |
| Dec 02, 2023 | Sphere |
| Dec 06, 2023 | Sphere |
| Dec 08, 2023 | Sphere |
| Dec 09, 2023 | Sphere |
| Dec 13, 2023 | Sphere |
| Dec 15, 2023 | Sphere |
| Dec 16, 2023 | Sphere |
| Jan 26, 2024 | Sphere |
| Jan 27, 2024 | Sphere |
| Jan 31, 2024 | Sphere |
| Feb 02, 2024 | Sphere |
| Feb 03, 2024 | Sphere |
| Feb 07, 2024 | Sphere |
| Feb 09, 2024 | Sphere |
| Feb 10, 2024 | Sphere |
| Feb 15, 2024 | Sphere |
| Feb 17, 2024 | Sphere |
| Feb 18, 2024 | Sphere |