U2 Concerts with Opening Act: Public Enemy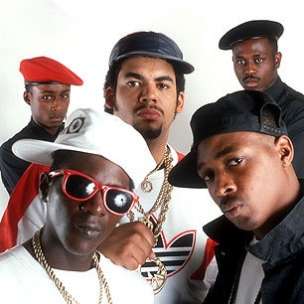 Public Enemy has opened at 23 U2 concerts.
Chuck D, Flavor Flav, DJ Lord, The S1W, Professor Griff
Hip-hop group Public Enemy originated in Long Island and formed in 1982. Their intense lyrics surrounding the concerns they had for the African-American community and their frustrations with the media made them one of the most important groups in music at the time. "Fight the Power" is still one of the most popular and influential hip-hop songs of all time and VH1 named it number one on their list of the 100 Greatest Hip-Hop Songs. Rolling Stone placed them at number 44 on their list of the 100 Greatest Artists of All Time. They were 2013 inductees in the Rock and Roll Hall of Fame.
| | |
| --- | --- |
| Date | Location |
| Nov 14, 1992 | Anaheim at Anaheim Stadium |
| Nov 12, 1992 | Las Vegas at Sam Boyd Stadium |
| Nov 10, 1992 | San Diego at Jack Murphy Stadium |
| Nov 07, 1992 | Oakland at Oakland-Alameda County Coliseum |
| Nov 04, 1992 | Vancouver at BC Place |
| Nov 03, 1992 | Vancouver at BC Place |
| Oct 31, 1992 | Los Angeles at Dodger Stadium |
| Oct 30, 1992 | Los Angeles at Dodger Stadium |
| Oct 27, 1992 | El Paso at Sun Bowl Stadium |
| Oct 24, 1992 | Tempe at Sun Devil Stadium |
| Oct 21, 1992 | Denver at Mile High Stadium |
| Oct 16, 1992 | Dallas at Texas Stadium |
| Oct 14, 1992 | Houston at Astrodome |
| Oct 10, 1992 | Tampa at Tampa Stadium |
| Oct 07, 1992 | Birmingham at Legion Field |
| Oct 03, 1992 | Miami Gardens at Joe Robbie Stadium |
| Sep 25, 1992 | Atlanta at Georgia Dome |
| Sep 23, 1992 | Columbia at Williams-Brice Stadium |
| Sep 18, 1992 | Tinley Park at World Music Theater |
| Sep 16, 1992 | Tinley Park at World Music Theater |
| Sep 15, 1992 | Tinley Park at World Music Theater |
| Sep 13, 1992 | Madison at Camp Randall Stadium |
| Jun 19, 1992 | Manchester at G-Mex Center |