U2 Concerts with Opening Act: The Pretenders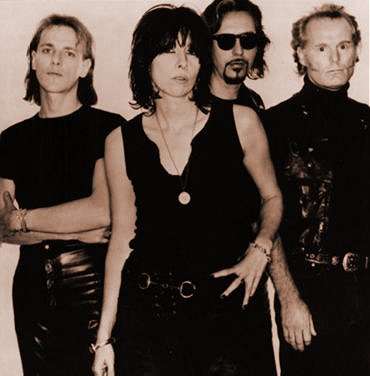 The Pretenders has opened at 18 U2 concerts.
Chrissie Hynde (lead vocals/rhythm guitar), Martin Chambers (drums, backing vocals, percussion), Nick Wilkinson, James Walbourne, Eric Heywood
English-American rock band formed in 1978. Their self-titled debut album was released in December 1979 and was a commerical and critical success. Their 1994 ballad "I'll Stand By You" was a Top 20 success in the US and a Top 10 hit in the UK. They were inducted into the Rock and Roll Hall of Fame in March 2005.
| | |
| --- | --- |
| Date | Location |
| Nov 18, 1987 | Los Angeles at Los Angeles Memorial Coliseum |
| Nov 17, 1987 | Los Angeles at Los Angeles Memorial Coliseum |
| Nov 15, 1987 | Oakland at Oakland-Alameda County Coliseum |
| Nov 14, 1987 | Oakland at Oakland-Alameda County Coliseum |
| Jul 25, 1987 | Cardiff at Arms Park |
| Jul 18, 1987 | Montpellier at Espace Richter |
| Jul 15, 1987 | Madrid at Estadio Santiago Bernabeu |
| Jul 11, 1987 | Rotterdam at Feyenoord Stadium |
| Jul 10, 1987 | Rotterdam at Feyenoord Stadium |
| Jul 01, 1987 | Leeds at Elland Road Football Stadium |
| Jun 28, 1987 | Dublin at Croke Park |
| Jun 21, 1987 | Basel at St. Jakob Stadium |
| Jun 17, 1987 | Cologne at Mungersdorfer Stadion |
| Jun 12, 1987 | London at Wembley Stadium (I) |
| Jun 06, 1987 | Gothenburg at Eriksberg Shipyard Docks |
| May 30, 1987 | Modena at Stadio Alberto Braglia |
| May 29, 1987 | Modena at Stadio Alberto Braglia |
| May 27, 1987 | Rome at Stadio Flaminio |