U2 Concerts in Angel Stadium of Anaheim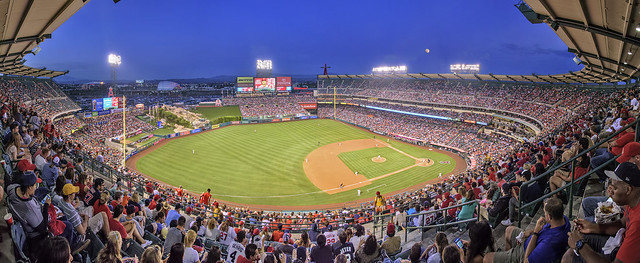 U2 has performed 3 times in Angel Stadium of Anaheim. Those performances included unique songs and an overall total of 73 songs.
Angel Stadium of Anaheim is located in Anaheim, California
Angel Stadium opened as Anaheim Stadium in 1966. "The Big A" is home of the Angels Major League Baseball team.

The stadium seating was expanded for the Los Angeles Rams of the NFL who began play at the stadium in 1980. Following the departure of the Rams and the Walt Disney Company taking controlling interest of the Angels in the mid-1990's, the stadium was renovated again, this time eliminating much of the outfield seating and updating the exterior of the stadium.
The stadium was named Edison Field from 1997 until it gained its present name in 2003.
Angel Stadium is located at 2000 Gene Autry Way, Anaheim, California.
Photo Credit: Al Case
Angel Stadium of Anaheim Website
This facility has been known by 2 names while U2 has been touring. It is currently known as Angel Stadium of Anaheim.