U2 Concerts in United Center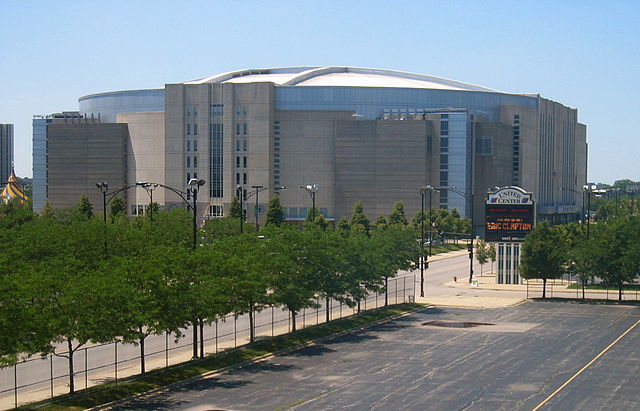 U2 has performed 19 times in United Center. Those performances included unique songs and an overall total of 434 songs.
United Center is located in Chicago, Illinois
The United Center replaced Chicago Stadium in 1994. It is the home of the NBA's Chicago Bulls and NHL's Chicago Blackhawks. It is the largest sports arena in the United States in physical size. It hosted the Democratic National Convention in 1996 during the re-election campaign of President Bill Clinton.

U2's May 9th and 10th, 2005 concerts at the United Center were filmed by Hamish Hamilton and released as Vertigo 2005: Live from Chicago. They have performed at the United Center on every tour of North American indoor arenas since the venue opened.
United Center is located at 1901 W. Madison St, Chicago Illinois 60612.
Photo Source: Wikipedia
| | |
| --- | --- |
| Date | Venue Name |
| May 12, 2001 | United Center |
| May 13, 2001 | United Center |
| May 15, 2001 | United Center |
| May 16, 2001 | United Center |
| Oct 15, 2001 | United Center |
| Oct 16, 2001 | United Center |
| May 07, 2005 | United Center |
| May 09, 2005 | United Center |
| May 10, 2005 | United Center |
| May 12, 2005 | United Center |
| Sep 20, 2005 | United Center |
| Sep 21, 2005 | United Center |
| Jun 24, 2015 | United Center |
| Jun 25, 2015 | United Center |
| Jun 28, 2015 | United Center |
| Jun 29, 2015 | United Center |
| Jul 02, 2015 | United Center |
| May 22, 2018 | United Center |
| May 23, 2018 | United Center |