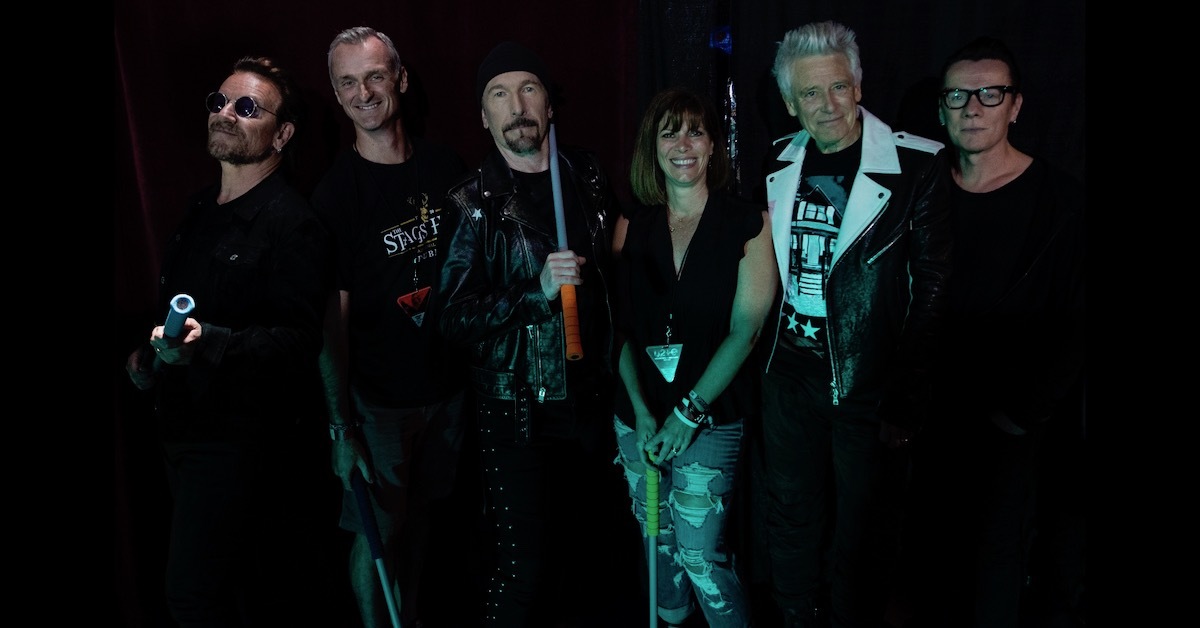 Who's the best putter in U2?
Paul Gorman has the answer, and an autographed plastic golf ball to prove it.
In November 2017 the (RED) campaign announced a fundraising contest through Omaze to win a chance to play a pre-concert game of miniature golf with Bono and Edge. Proceeds from the contest would go to (RED)'s fight to end AIDS in Africa. (Promotion for the contest included a video in which Edge annoys Bono by listing every possible synonym for miniature golf.)
Paul and his wife, Amy, of Buffalo, New York, won the contest. They got to play golf with U2 — as it turned out, Adam showed up to play, too, with Larry making a cameo — in Nashville during the Experience + Innocence Tour.
If you're picturing Bono whacking a golf ball through the door of a whimsical castle on an outdoor mini golf course, wipe that image from your mind. This was much less elaborate: It all took place on two 10-foot putting greens in a backstage room.
Paul and Amy Gorman would have teed up anywhere to meet the band.
Paul, 49, who works in pharmaceutical sales, became a U2 fan as a teenager in the 1980s. "I was actually into Journey, but went from making fun of my brother for listening to U2 to watching all their MTV videos," Paul said. His first concert was the original Joshua Tree tour in 1987, and he's been hooked ever since. He met Amy in college, and she happened to be a U2 fan as well.
Paul said he heard about the golf contest via social media. "I knew (RED) was a great charity," he said, "so I donated because it's a good thing, and I figured somebody has to win these things."
He donated $100.
Paul found out he won while … golfing. A casual golfer, he was on a golf trip to Florida with friends in March 2018 when he got an email from Omaze. "I was completely stunned," Paul said. "I almost started tearing up. The guys, and their music, have been a huge part of my life. As a fan, you always think you're going to meet them, but maybe outside a venue. The randomness of realizing I won overwhelmed me. I've never won anything."
He and Amy immediately went into "Oh my God, what will I say to U2" planning mode. "We spent two months thinking, what would we ask, what would we say, totally overthinking it," Paul said. "We didn't want to be awkward. We also agreed we didn't want to be taking a bunch of pictures on our phones. We wanted to be in the moment the best we could."
The selected date was the night of the Nashville Experience + Innocence Tour show at Bridgestone Arena over Memorial Day weekend. Omaze/(RED) booked and paid for the flight and hotel. Still, the Gormans didn't know a lot of details until the day of the golf experience.
They were told to arrive at the arena around 5:30 pm.
Once there, they got to hang out in a VIP lounge where they mingled with country music stars including Emmylou Harris.
A representative from (RED) told them they would actually get to meet the whole band, but they were running late. They were escorted to a room that had been curtained off.
"There was a table loaded with food, beer and wine," Paul said. "It was just us, and some staff." The mini golf "course" was two rectangular practice putting greens.
All of a sudden, the band appeared.
Amy said she was amused Larry felt the need for an introduction: "Hi, I'm Larry Mullen Jr." And "to hear Edge, Adam and Bono one by one greet me by name kind of stunned me," she said.
Paul, when talking about the experience, just kept repeating the same thing: "They couldn't have been nicer. They were so normal, totally normal." At one point, he said, "I was telling them about something not related to music, and they were really listening to me. Knowing who they are in the world, that was a surreal moment."
All the carefully planned questions went out the window. They did discuss golf, because Paul asked why the band members didn't like golf. "Bono said they were rebelling, because their dads played golf," Paul said. "Like an idiot, I tried to tell him why I play golf and why I like it so much."
Larry left after a photo, and the mini golf began.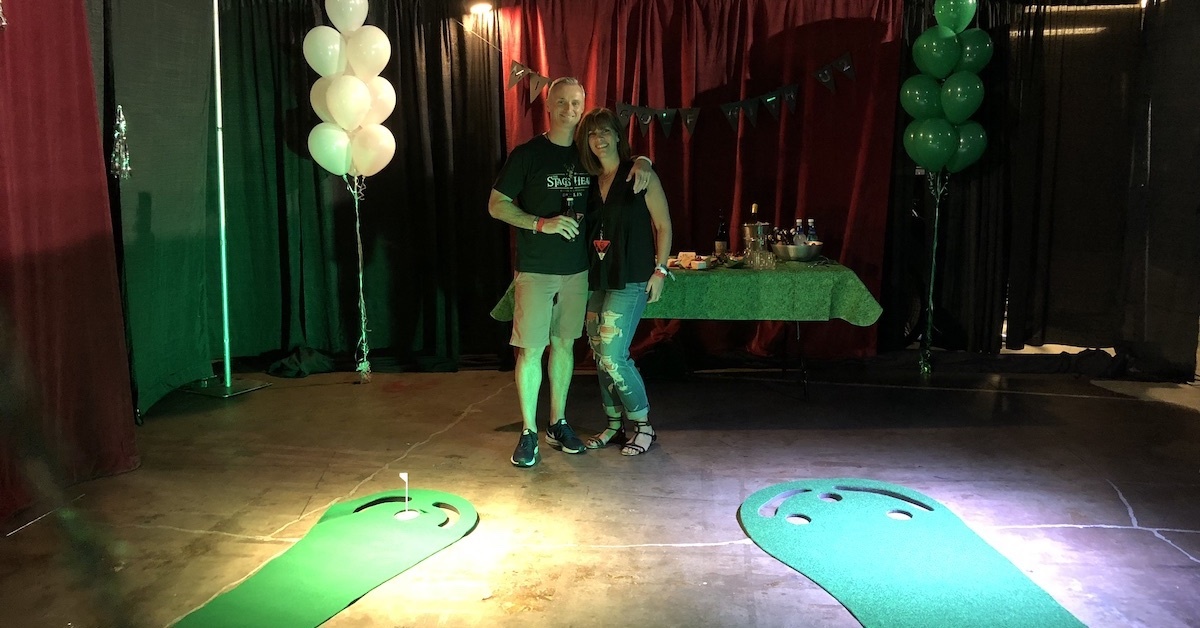 They played two extremely short holes — just a few shots each.
So who won?
The Edge.
"I think he had a hole in one," Paul said. "His score was 4. Amy and Bono had 5. I'm not sure about Adam. I was last, because I was so nervous."
The Gormans hadn't brought anything for U2 to sign, so the band members signed some golf-themed plastic plates from the food table.
The entire experience lasted about 20 to 30 minutes.
Their prize also came with RED Zone tickets, and the Gormans received a set list.
Paul said he and Amy have a new appreciation for (RED) after learning more about the organization. "One really cool thing we got this from this is it's something that does so much good for people," he said.
In an email, Huw Davies, chief communications and campaigns officer for (RED), said the 2017 (RED) Shopathon campaign — which included the mini-golf experience along with other celebrity encounters and (RED) products for sale — generated more than $25 million. He didn't have specific numbers just for the golf contest.
Paul said in retrospect he's glad they didn't try to take a lot of photos or give U2 the third degree during their limited time together. "They are asked a million questions all the time. I think it's cool we had conversations like normal people."
He laughed. "Or maybe they were bored with us because we were so normal."
(c) @U2/Lindell, 2019
Top photo courtesy (RED)
Bottom photo courtesy Paul Gorman