U2 Concerts with Opening Act: B.B. King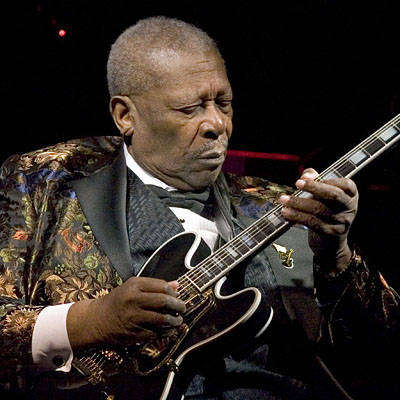 B.B. King has opened at 47 U2 concerts.
Nicknamed "The King of Blues," B.B. King was voted No. 6 by Rolling Stone magazine as one of the 100 greatest guitarists of all time. He recorded "When Love Comes to Town" with U2 in 1988 for their Rattle and Hum record. In June 2011, he played at the Glastonbury festival in the UK and the following year performed for President Barack Obama and his wife Michelle at their blues celebration concert "In Performance at the White House: Red, White, and Blues." The Mississippi-born Grammy winner has played an astonishing 15,000 shows throughout his entire career.
| | |
| --- | --- |
| Date | Location |
| Jan 10, 1990 | Rotterdam at Sport Paleis Ahoy |
| Jan 09, 1990 | Rotterdam at Sport Paleis Ahoy |
| Jan 06, 1990 | Rotterdam at Sport Paleis Ahoy |
| Jan 05, 1990 | Rotterdam at Sport Paleis Ahoy |
| Dec 31, 1989 | Dublin at Point Depot |
| Dec 30, 1989 | Dublin at Point Depot |
| Dec 27, 1989 | Dublin at Point Depot |
| Dec 26, 1989 | Dublin at Point Depot |
| Dec 18, 1989 | Amsterdam at RAI Europahal |
| Dec 12, 1989 | Paris at Palais Omnisports De Paris Bercy |
| Dec 11, 1989 | Paris at Palais Omnisports De Paris Bercy |
| Dec 01, 1989 | Osaka at Osaka-jō Hall |
| Nov 29, 1989 | Osaka at Osaka-jō Hall |
| Nov 28, 1989 | Osaka at Osaka-jō Hall |
| Nov 26, 1989 | Tokyo at Tokyo Dome |
| Nov 25, 1989 | Tokyo at Tokyo Dome |
| Nov 23, 1989 | Yokohama at Yokohama Arena |
| Nov 19, 1989 | Sydney at Entertainment Center |
| Nov 18, 1989 | Sydney at Entertainment Center |
| Nov 17, 1989 | Sydney at Entertainment Center |
| Nov 11, 1989 | Auckland at Western Springs Stadium |
| Nov 10, 1989 | Auckland at Western Springs Stadium |
| Nov 08, 1989 | Wellington at Athletic Park |
| Nov 04, 1989 | Christchurch at Lancaster Park |
| Oct 28, 1989 | Adelaide at Memorial Drive Stadium |
| Oct 27, 1989 | Adelaide at Memorial Drive Stadium |
| Oct 21, 1989 | Sydney at Entertainment Center |
| Oct 20, 1989 | Sydney at Entertainment Center |
| Oct 16, 1989 | Melbourne at National Tennis Centre |
| Oct 14, 1989 | Melbourne at National Tennis Centre |
| Oct 13, 1989 | Melbourne at National Tennis Centre |
| Oct 12, 1989 | Melbourne at National Tennis Centre |
| Oct 09, 1989 | Melbourne at National Tennis Centre |
| Oct 08, 1989 | Melbourne at National Tennis Centre |
| Oct 07, 1989 | Melbourne at National Tennis Centre |
| Oct 04, 1989 | Brisbane at Entertainment Center |
| Oct 03, 1989 | Brisbane at Entertainment Center |
| Oct 02, 1989 | Brisbane at Entertainment Center |
| Sep 29, 1989 | Sydney at Entertainment Center |
| Sep 28, 1989 | Sydney at Entertainment Center |
| Sep 27, 1989 | Sydney at Entertainment Center |
| Sep 23, 1989 | Perth at Entertainment Center |
| Sep 22, 1989 | Perth at Entertainment Center |
| Sep 21, 1989 | Perth at Entertainment Center |
| Dec 20, 1987 | Tempe at Sun Devil Stadium |
| Dec 19, 1987 | Tempe at Sun Devil Stadium |
| Nov 24, 1987 | Fort Worth at Tarrant County Convention Center |