U2 Concerts with Opening Act: Snow Patrol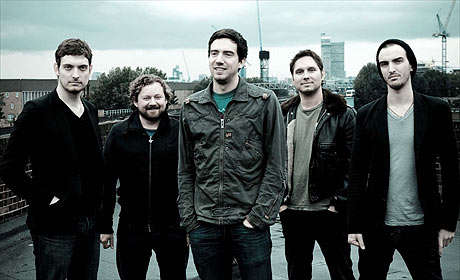 Snow Patrol has opened at 36 U2 concerts.
Gary Lightbody (vocals, guitar), Nathan Connolly (guitar, backing vocals), Jonny Quinn (drums), Johnny McDaid (piano, guitar, backing vocals), Paul Wilson (bass, backing vocals)
Formed at the University of Dundee (Scotland) in 1994, Snow Patrol released their first three albums on independent labels before signing to Polydor in 2002. Their 2003 record "Final Straw" sold 3 million copies worldwide. The 2006 album "Eyes Open" became the best selling British album of the year, topping the charts thanks to hit single "Chasing Cars." The song was nominated for Best Rock Song at the 2007 Grammy Awards. They are due to release a new album in 2014, following their 2011 album "Fallen Empires."
| | |
| --- | --- |
| Date | Location |
| May 15, 2011 | Mexico City at Azteca Stadium |
| May 14, 2011 | Mexico City at Azteca Stadium |
| May 11, 2011 | Mexico City at Azteca Stadium |
| Sep 06, 2010 | Istanbul at Ataturk Stadium |
| Sep 03, 2010 | Athens at Olympic Stadium |
| Aug 25, 2010 | Moscow at Luzhniki Stadium |
| Aug 16, 2010 | Horsens at CASA Arena |
| Aug 15, 2010 | Horsens at CASA Arena |
| Sep 21, 2009 | Foxborough at Gillette Stadium |
| Sep 20, 2009 | Foxborough at Gillette Stadium |
| Sep 17, 2009 | Toronto at Rogers Centre |
| Sep 16, 2009 | Toronto at Rogers Centre |
| Sep 13, 2009 | Chicago at Soldier Field |
| Sep 12, 2009 | Chicago at Soldier Field |
| Aug 10, 2009 | Zagreb at Maksimir Stadium |
| Aug 09, 2009 | Zagreb at Maksimir Stadium |
| Aug 06, 2009 | Katowice at Stadion Śląski |
| Aug 03, 2009 | Gelsenkirchen at Veltins Arena |
| Aug 01, 2009 | Gothenburg at Ullevi |
| Jul 31, 2009 | Gothenburg at Ullevi |
| Jul 21, 2009 | Amsterdam at Amsterdam ArenA |
| Jul 20, 2009 | Amsterdam at Amsterdam ArenA |
| Jul 18, 2009 | Berlin at Olympiastadion Berlin |
| Jul 15, 2009 | Nice at Parc des Sports Charles Ehrmann |
| Jul 08, 2009 | Milan at San Siro |
| Jul 07, 2009 | Milan at San Siro |
| Jul 02, 2009 | Barcelona at Camp Nou |
| Jun 30, 2009 | Barcelona at Camp Nou |
| Jul 16, 2005 | Amsterdam at Amsterdam ArenA |
| Jul 15, 2005 | Amsterdam at Amsterdam ArenA |
| Jul 10, 2005 | Saint-Denis at Stade de France |
| Jul 09, 2005 | Saint-Denis at Stade de France |
| Jul 07, 2005 | Berlin at Olympiastadion Berlin |
| Jun 24, 2005 | Dublin at Croke Park |
| Jun 14, 2005 | Manchester at City of Manchester Stadium |
| Jun 10, 2005 | Brussels at King Baudouin Stadium |