U2 Concerts with Opening Act: Kings of Leon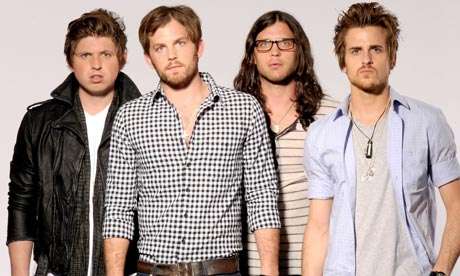 Kings of Leon has opened at 28 U2 concerts.
Caleb Followill (lead vocals/rhythm guitar), Nathan Followill (drums/percussion/backing vocals), Jared Followill (bass guitar/backing vocals), Matthew Followill (lead guitar/backing vocals)
Named after their grandfather Leon, Nashville based rockers Kings of Leon have nine Top 40 UK singles and three of their singles reached the No. 1 spot on the Hot Modern Rock chart in the US. In 2009, the band formed their own record label called Serpents and Snakes Records. The song "Use Somebody" won the band three Grammys, including "Record of the Year" at the 52nd Grammy Awards in 2010. Their latest album, "Mechanical Bull," is slated for a release on September 24th 2013.
| | |
| --- | --- |
| Date | Location |
| May 28, 2005 | Boston at Fleet Center |
| May 26, 2005 | Boston at Fleet Center |
| May 24, 2005 | Boston at Fleet Center |
| May 22, 2005 | Philadelphia at Wachovia Center |
| May 21, 2005 | New York at Madison Square Garden |
| May 18, 2005 | East Rutherford at Continental Airlines Arena |
| May 17, 2005 | East Rutherford at Continental Airlines Arena |
| May 14, 2005 | Philadelphia at Wachovia Center |
| May 12, 2005 | Chicago at United Center |
| May 10, 2005 | Chicago at United Center |
| May 09, 2005 | Chicago at United Center |
| May 07, 2005 | Chicago at United Center |
| Apr 29, 2005 | Vancouver at General Motors Place |
| Apr 28, 2005 | Vancouver at General Motors Place |
| Apr 25, 2005 | Seattle at Key Arena |
| Apr 24, 2005 | Seattle at Key Arena |
| Apr 21, 2005 | Denver at Pepsi Center |
| Apr 20, 2005 | Denver at Pepsi Center |
| Apr 15, 2005 | Glendale at Glendale Arena |
| Apr 14, 2005 | Glendale at Glendale Arena |
| Apr 10, 2005 | San Jose at HP Pavilion |
| Apr 09, 2005 | San Jose at HP Pavilion |
| Apr 06, 2005 | Los Angeles at Staples Center |
| Apr 05, 2005 | Los Angeles at Staples Center |
| Apr 02, 2005 | Anaheim at Arrowhead Pond |
| Apr 01, 2005 | Anaheim at Arrowhead Pond |
| Mar 30, 2005 | San Diego at IPay One Center |
| Mar 28, 2005 | San Diego at IPay One Center |