U2 Concerts with Opening Act: The Pixies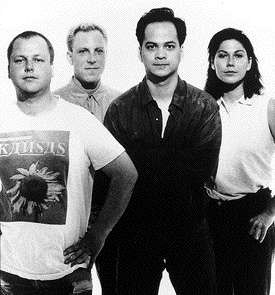 The Pixies has opened at 32 U2 concerts.
Black Francis (lead vocals/rhythm guitar), David Lovering (drums), Joey Santiago (lead guitar), Paz Lenchantin (bass)
Boston based rock band who formed in 1986. Their musical style combines psychedelia rock and and indie rock. The band's album "Surfer Rosa" garnered them acclaim in Europe. They opened for U2 in 1992 during the ZooTV tour and during this time experienced personal tensions in the band and went on a sabbatical soon after. They broke up in 1993 but reunited in 2004. The Strokes and Nirvana are credited as being influenced by the band.
| | |
| --- | --- |
| Date | Location |
| Apr 23, 1992 | Vancouver at Pacific Coliseum |
| Apr 21, 1992 | Tacoma at Tacoma Dome |
| Apr 20, 1992 | Tacoma at Tacoma Dome |
| Apr 18, 1992 | Oakland at Oakland-Alameda County Coliseum Arena |
| Apr 17, 1992 | Sacramento at ARCO Arena |
| Apr 15, 1992 | San Diego at San Diego Sports Arena |
| Apr 13, 1992 | Los Angeles at Los Angeles Memorial Sports Arena |
| Apr 12, 1992 | Los Angeles at Los Angeles Memorial Sports Arena |
| Apr 10, 1992 | Tempe at Arizona State University Activity Center |
| Apr 07, 1992 | Austin at Frank Erwin Center |
| Apr 06, 1992 | Houston at Summit |
| Apr 05, 1992 | Dallas at Reunion Arena |
| Mar 31, 1992 | Rosemont at Rosemont Horizon |
| Mar 30, 1992 | Minneapolis at Target Center |
| Mar 27, 1992 | Auburn Hills at Palace of Auburn Hills |
| Mar 26, 1992 | Richfield at Richfield Coliseum |
| Mar 24, 1992 | Toronto at Maple Leaf Gardens |
| Mar 23, 1992 | Montreal at Montreal Forum |
| Mar 21, 1992 | Albany at Knickerbocker Arena |
| Mar 20, 1992 | New York at Madison Square Garden |
| Mar 18, 1992 | East Rutherford at Brenden Byrne Arena |
| Mar 17, 1992 | Boston at Boston Garden |
| Mar 15, 1992 | Providence at Providence Civic Center |
| Mar 13, 1992 | Worcester at Centrum in Worcester |
| Mar 12, 1992 | Hartford at Hartford Civic Center |
| Mar 10, 1992 | Philadelphia at Spectrum |
| Mar 09, 1992 | Uniondale at Nassau Veterans Memorial Coliseum |
| Mar 07, 1992 | Hampton at Hampton Coliseum |
| Mar 05, 1992 | Atlanta at Omni Coliseum |
| Mar 03, 1992 | Charlotte at Charlotte Coliseum |
| Mar 01, 1992 | Miami at Miami Arena |
| Feb 29, 1992 | Lakeland at Lakeland Civic Center |